> Reading time: 5 minutes
When we are travelling, far from our comfort zone and habits, it often happens that we feel unsafe and afraid of having our belongings, mainly our money, stolen! To prevent this from happening and to travel with a free mind, here is a list of 10 tips to hide your money during your travel.

1 – Buy a bag with back closure
The bags with secure closings allow you to store all your stuff inside and walk around safely. Indeed, the closure is located against your back, which prevents any stranger from opening your bag without your agreement.
This essential and clever accessory allows you to walk through crowded streets with confidence and to stay safe from pickpockets! This kind of bag is commonly used and recommended by regular travellers.
With the code Moneyeti5, get a 5% reduction on arsayo.com.

2 – Attach padlocks to your bag and/or suitcase
You can also use good old-fashioned methods, such as hanging locks from your luggage.
This widely used technique will help to avoid theft as much as possible. However, it's a great trick as long as you don't forget the codes! Otherwise, if you don't want to leave with a lot of cash on you, we found a comparator of the best bank cards to bring with you while travelling, right here.
3 – Hide bills in your shoes or socks
Another trick, which is rather practical and easy to do, is to slip some money into your shoes (a few bills). Of course, you have to make sure that nothing is sticking out and be discreet when you take the bills out of their hidden place to put them away afterwards.
Likewise, you can hide this bundle in your socks, but this can become a hygiene problem, so you can put a second pair of socks and wedge the money in between. This is not the most comfortable trick but it is certainly the most practical in case of emergency because it does not require any equipment to be planned in advance.
This trick is obviously impossible if you wear flip flops !

4 – Don't put all your money in one place
The first thing to do to avoid being robbed while travelling is not to put all your loot in one place. It is imperative to separate it in at least two places.
For example, you can store some of your cash in the discreet pocket of a suitcase and the other in the pocket of a backpack. Avoid side pockets, which are easier to reach for pickpockets.
On the outside, you can also put a bit of cash in one pocket of your trousers and a little more in the other. Favour the front pockets.
It is also preferable to take several credit cards with you to avoid any problems in case of theft.

5 – Wear a money belt
The money belt is a trick becoming more famous and used by travellers because it is quite practical.
More discreet than a bumbag thanks to people who don't think it can contain or hide anything, this kind of belt exists in several models, several sizes and several colours. Different brands offer this kind of accessory, you can find them on Amazon.

6 – Take a smaller wallet and a Protec Card with you
When travelling, it is best not to bring your usual wallet which contains a lot of cards, a lot of cash, identity papers and other essential documents. That's why taking a small wallet especially for the trip is an excellent solution. It should contain the bare necessities for the trip and not be too bulky and therefore easy to hide anywhere.
There are also protective sleeves for credit cards to prevent fraudulent reading of contactless payment card data. And indeed, this happens more often than you might think, especially in tourist and crowded places. A solution already exists on the market, called Protec Card, which combines anti-RFID and geolocation of your bank card, all with a smartphone application! The principle is simple: your bank card is comfortably installed in the Protec Card, which is itself connected by Bluetooth technology to the application. It detects the absence or distance. Say goodbye to theft and forgetfulness! Take advantage of 20% discount on their site with the discount code MONEYETI.

7 – Hide money in a fake suntan lotion tube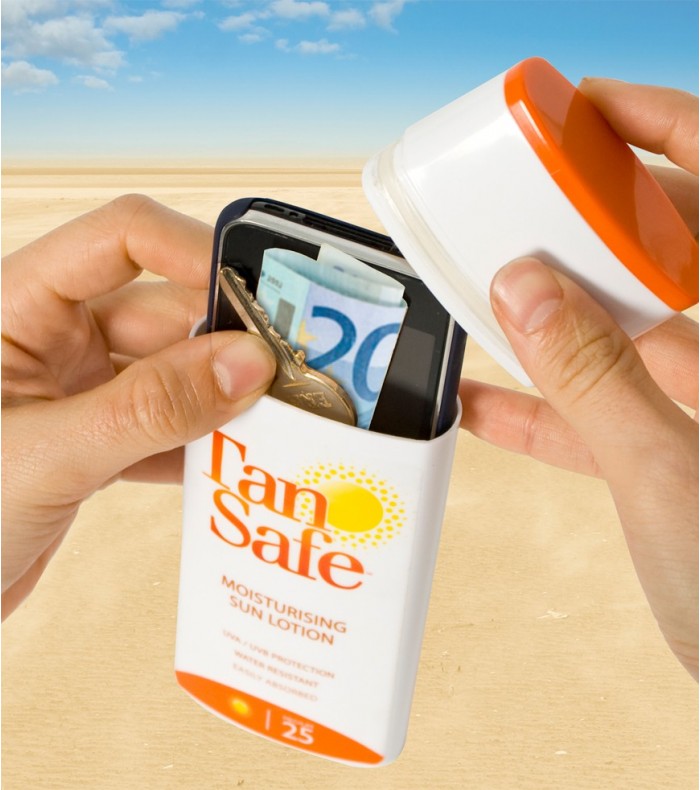 Not all hotels and hostels abroad are trustworthy and they welcome a lot of visitors. To protect your money from the public's eye, it's a good idea to hide it in unusual places such as a tube of sunscreen! Obviously emptied beforehand, a tube of cream can easily contain a wad of bills.
The trick of the fake tube of sunscreen also works very well with tissues, a bottle of shampoo or other objects that you wouldn't suspect could be used for anything other than their primary function!
Be careful not to fall into your own trap and do not throw away the tube of cream that you think is empty and therefore useless!

8 – Wear a waterproof pouch around your neck
A waterproof pouch will allow you to easily hide your money but also to swim with it if you're afraid to leave your stuff on the beach while you're swimming!

9 – Sew a secret pocket inside your trousers
For the more far-sighted (and skilful with their hands), it is quite clever to sew a pocket inside their pants. This makes it easy to hide money or other important things.
It's a trick that doesn't allow you to hide your money every day (only when you're wearing the pants in question), however, it's super-efficient and very discreet!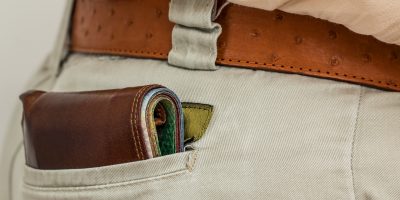 10 – Never show that you have money
Finally, it is obviously necessary to never take out of a pocket a wad of banknotes that is visible to everyone, neither in a shop nor on the street. Similarly, you should not check that you are still in possession of your money in the street. You should wait until you are out of sight and in a safe place. In short, you should not show that you have money on you.
If you, too, have good tips on how to hide your money abroad, please feel free to share them with us in the comment section.